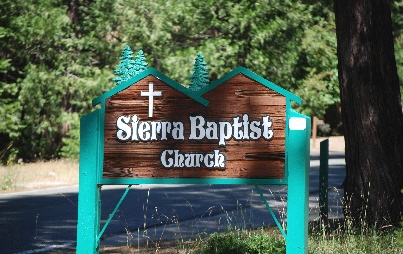 Mission Statement
Sierra Baptist Church — A community of Christians reaching people outside and developing those inside. (Matthew 28:18-20)
Our Core Values
We value Biblical Teachings (2 Timothy 3:16)
We value Prayer (Acts 12:5, Matt 7:7-11)
We value Authentic Worship (Romans 12:1-2, John 4:23-24)
We value Stewardship (2 Corinthians 9:6-11)
We value Fellowship (Acts 2:42-47)
We value Family (Genesis 1:26-28, Eph 5:22, 6:4)
We value Lost People (Acts 1:8, Matt 28:19-20)
Sierra Baptist Church serves a mountain community with a strong Bible-based ministry.
We meet for worship on Sunday mornings at 11:00 a.m. following our Sunday School classes which begin at 9:45 a.m.  Nursery care is provided for birth to two year olds. We also offer children activities during the worship service for ages  three to six.
Wednesday evenings we hold our weekly prayer and praise meeting where we pray for people and their concerns and praise the Lord for the many blessings He bestows.
We have programs for all ages from young children to seniors.  Our annual Fourth of July Carnival has grown to be a community favorite as we provide games and activities for children, hot dog and hamburger lunch, and even water fun.  Our Vacation Bible School program serves all children in the community at no charge, while our regular Men's Ministry and Women's Ministry offer activities for members, neighbors and visitors alike.
Pastor Eugene Overstreet and  Pastor Ryan Lane